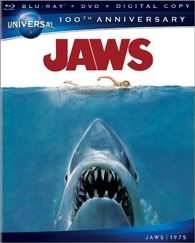 I'm sure everyone knows by now that 'Jaws' is being restored and finally getting released on Blu-ray on August 14th. One of my favorite films and one I have been waiting to come out on Blu-ray for a long time. The restoration they're doing looks to be very intensive (video below) and I am really happy Steven Spielberg is as involved in it as he is. I can't wait to finally have this on Blu-ray.
Here is the Blu-ray trailer.
Here is a really great video on the restoration.