Day Twenty-Three – Who is your favorite horror movie director?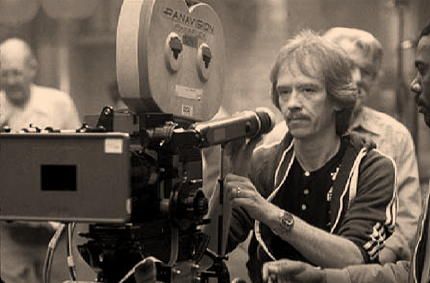 Everyone knows of my idolization of both George A. Romero and John Carpenter. Picking one is hard. I decided on Carpenter for this post because for the sake of Halloween he has the more diverse horror resume.
Much like Romero, I grew up on Carpenter's films and has had a lot of his style creep into my own. His influence on me is very apparent. I've always responded to his slower style and I don't mean that in a bad way. He was influenced a lot from westerns (a big Howard Hawkes and John Ford fan) where you go fast when needed. I've always loved that. It makes each frame all the more important. He was also very involved in so many aspects of his films including writing, producing, editing, and most notably the music. He has done the music to almost all of his films which lends an extra layer to them making them feel more like one of his outside of the visual style.
He will always be known for HALLOWEEN but he has so many great genre films of different kinds. Supernatural tales like THE FOG and PRINCE OF DARKNESS, the aliens of THE THING and THEY LIVE, possession supernatural films like CHRISTINE and GHOSTS OF MARS. Plus his non-genre films (though still feel like them) ASSAULT ON PRECINCT 13, BIG TROUBLE IN LITTLE CHINA, and ESCAPE FROM NEW YORK. Even the films of his I thought were just okay the first time I saw them I would re-watch later and end up really liking them if not loving them.
Very few directors, in the horror genre or in movies in general, have had such an impact on me and had such a signature on a diverse range of films and putting a stamp on a genre that still exists to this day. So many filmmakers want to be John Carpenter (including me) and it's no wonder why. The man is a master filmmaker and one that proves to me if someone is a true movie fan if they appreciate his films too.